How to generate qualified leads for your small business
< back to all business news articles
27/08/2019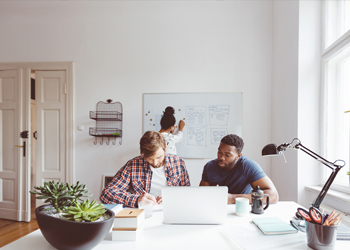 Your business's financial health depends of a constant flow of sales opportunities. And while it's important to have a well-aligned strategy between marketing and sales, the actual machine only works when there's a constant supply of qualified leads to be converted into customers.
Just generating leads isn't enough. It's important that these leads are more likely to buy, or have a vested interest in what you're selling.
What's the difference between qualified and unqualified leads?
A non-qualified lead is someone that:
Visits your website or business to collect information and never intends to buy
Stumbles across your business (especially as online traffic) by mistake
Unaware of what you do, or is at the very start of the buying process and will need a lot of time and energy to convert to a customer
A qualified lead is someone that you 'score' depending on their activity. If they meet your requirements, you've generated a Marketing Qualified Lead (MQL). This could be someone that has:
Visited your website and spent time on product and pricing pages
Downloaded content and registered to receive a whitepaper or research
Asked to be on your database and has read and opened emails
Participate or view your social media pages and connect to conversations
The next step is to analyse their information to determine if they fit with your provided service or product. If they do, then it's an opportunity and they move to the next stage as a Sales Qualified Lead (SQL) and it's time to close the deal.
Unqualified leads don't fit with what you're selling. They may have filled out a form on your website to gain access to your content, but they don't respond to follow-up emails or make any enquiries.
How to increase your MQLs and SQLs
One of the most powerful tools available to any business is social media, which helps generate qualified leads because it allows you to group your followers into different categories. The most valuable can then receive highly targeted offers.
Social media is an absolute must for any small business, an essential tool for generating qualified leads.
Other tried and true methods include:
Offering great content around what you're selling. It's something you offer for free – like an eBook – because you give potential leads the opportunity to experience your expertise, which will add value to your product or service.
Landing pages – these are used to promote that new content. Potential customers have to enter their contact details in order to gain access to the content, giving you a new lead to follow up on.
Professional networking – platforms like LinkedIn mean you can forge a network of professional contacts, then use them to prospect for qualified leads that fit with your business. This is an important tool for businesses selling to other businesses.
Attend and exhibit at trade fairs, events and conferences – these are great for your business's market presence and positioning. More than that, it's a great opportunity to grab contacts that might have a pain point your solution can solve.
Corporate events are famous for grabbing the attention of influencers and decision-makers. Some sponsorship tiers allow you to send messages and exhibit your solution to a qualified base of attendees. With that, they can be encouraged to visit your website and find out more about what your company offers.
Summary
You'll have noticed that you need to do quite a bit of qualified lead prospecting to keep the sales machine running. These techniques can be combined to help you reach your conversion goals. They also work for different kinds of businesses.
For these methods to work properly and help you achieve better qualified leads, it's important that your sales and marketing teams are aligned. It means they have a better control of lead generation results, meaning you can achieve more SQLs and MQLs.
Next steps
Review your marketing and sales strategy. Are you making the most of potential leads and working to turn them into MQLs and SQLs?
Use our branch locator to find a branch, or call us on 0800 032 3971.