Agriculture - How to maintain mental wellbeing during Covid-19
< back to all business news articles
08/06/2020
At Clydesdale and Yorkshire Bank, mental health and wellbeing has never been more critical than during the Covid-19 pandemic, is a message from UK Head of Agriculture, Brian Richardson. The Bank has been taking advice from Aarun Naik, a Psychotherapist who works with the NFU, to ensure that its employees and customers are supported during these difficult times.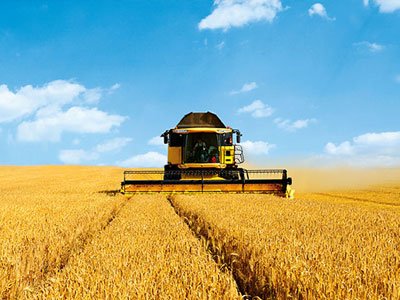 These are unprecedented circumstances, so it is easy to become bogged down by events that are out of our control. The world now seems a very different place and many of us may be experiencing a level of anxiety, fear and stress as we come to terms with social distancing and the consequences of the pandemic. This is especially the case in farming, which can be a lonely and isolated profession at the best of times.
Throw in concerns around finance, the pressures of home-schooling children and the impact on farming supply chains and it highlights a very worrying time for the industry. To provide extra support, the Bank has sought advice from Aarun, who specialises in providing specialist counselling services for farmers. He has delivered workshops on farmers' mental health and wellbeing organised by the NFU, with some of these sessions sponsored by Clydesdale & Yorkshire Bank.
Aarun explains that our brain is evolutionarily hardwired to be alert to threats and we can think of anxiety as its warning system. However, anxious thoughts can spiral out of control and become overwhelming. It is therefore important to take extra care right now and following some simple steps will help:
Eating regular, nutritious meals will keep the body fit and well and aid brain function
A good night's sleep is especially important as things can seem much worse when we are tired
While work can keep us busy and provide a focus and motivation, make sure you include variety in there too and find time to rest
Taking time for a hobby or interest can provide a distraction from the stresses of the day and help with relaxation
If you are working indoors more than usual, it is crucially important to ensure that you still get plenty of fresh air and sunlight to lift spirits
Especially important at this time is to make time to connect with others over the phone or video chats and share how you are feeling and managing.
On top of everyday farming activities, finances may be causing an extra level of worry that could lead to significant stress and anxiety for farmers. Brian is keen to emphasise that the Bank has a team of dedicated and specialist Agricultural Relationship Managers who are part of an important support community he encourages farmers to get in touch early to seek advice and assistance during the current Covid-19 pandemic.
If you are struggling or are concerned about others, there are some great organisations working to help our farming communities, who understand farming life and are ready to provide support. These include: Farming Help www.farminghelp.co.uk Tel: 03000 111 999, Samaritans Tel: 116 113. (Confidential Helpline open 24-hours), Farm Safety Foundation www.yellowwellies.org, National Directory of Rural Support Groups Download from www.yanahelp.org/rural-directory.pdf and Practical guidance on coronavirus for farming businesses https://ahdb.org.uk/coronavirus.