How to combat losing sales to online providers as a retailer
< back to all business news articles
29/11/2018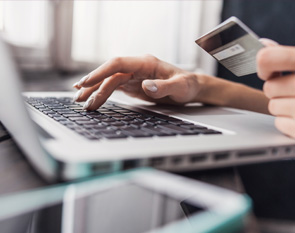 Yes, competing with online retailers is tough. But it can be done. Bricks-and-mortar stores still hold some advantages over the online versions, and these will keep them from dissipating completely. In order for a physical retail business to keep its footing, there are adaptations they should make so they can continue to compete in their market and stay relevant.
Use the online option to drive in-store traffic
Just because you don't have an online presence doesn't mean you shouldn't. The simple truth is that if your want your bricks-and-mortar location to remain competitive, you need to enhance it with an online presence to complement and enhance what you do.
They're surprisingly easy to set up. If your business has a Facebook page – and it should – then you can set up a Facebook store. You can also sell through 3rd party sites like www.amazon.co.uk, www.ebay.co.uk or www.shopify.co.uk, or you can go all-out and set up an online store on your website, complete with checkouts and payment options.
The trick is to create unique offers and products that can only be accessed in-store. So when customers are at your online site, they'll see a special offer or a new product that they have to make a trip to your store to take advantage of. And while they're there, there's a good chance they'll buy something else during their visit.
Other online tactics:
Run competitions that are based on buying products in the store
Offer discount vouchers and special sales redeemable only in-store
Build awareness in person
A focus on brand awareness and keeping your name out there is essential. It's a key element of marketing: identify your target market and then create a laser focus on it. To keep your brand front of mind, making sure that you're always visible to your customers, you can try:
Speaking at industry retail related events and be quoted by external media
Setting up webinars or workshops for customers and hold the event in your shop
Attending and speaking at retail conferences
Participating in local media, social channels and talking about what you do any chance you get
Not only will you be ensuring that your brand is visible in the marketplace, you'll also be cementing your reputation as an expert in your industry, which builds customer confidence. Potential and existing customers are more likely to visit you at your physical location if they can, to get your insights and to examine your products.
Promote the advantage of retail
We are social beings and 'going shopping' isn't called 'retail therapy' for nothing. We like to go out and interact with others. To encourage this, build on the benefits of retail such as:
Try before you buy. Regardless of how sophisticated online shopping gets, it's still not the same as picking something up, feeling, touching and tasting before you buy it.
Promoting the instant gratification by being able to take home the product that day.
Being able to talk to the person you bought the product from, in case you need to either return it, or ask for instructions or advice.
Add value for the customer
Focus on the customer experience and make sure it's the best you can offer. Play to the strengths of your physical location by providing customer experiences they wouldn't get online, such as in-store exclusives, or special attractions. For example:
A bookstore could have an in-store signing when an author's book is released (if you can get the author!)
A hairdressing salon could offer free tutorials on new styles.
A hardware store could have demonstrations of a new product by experts.
Photographic businesses (yes, some still exist) can hold free classes on how to take better photos (even with your phone).
There are many ways that your bricks-and-mortar location can add to the customer experience in ways that are impossible for online retailers. All it takes is a bit of imagination.
Fight fire with fire
Use your online marketing tools such as social media and your website, to encourage customers away from their computer and into your store. If you're holding an event of some kind, make sure it's thoroughly promoted on your social media platforms. You need an actual schedule, which usually consists of:
Two or three Facebook posts a week or so apart
The same on LinkedIn if your business has a B2B aspect
Twitter messages spaced 3 or 4 days apart
The messages should all be geared to what's happening at your physical location, and what customers will get if they show up. It could be a one-time only discount, the chance to listen to a celebrity speaker, or competition opportunities.
Summary
Competing with online retailers is not only possible, the tactics you use will give your bricks-and-mortar location a lift that you'll notice an increase in sales and revenue at your physical store. It's all about giving your customers an experience they can't get online, and that means being tangible: after-sales support, education, workshops, competitions, and most importantly, an outstanding customer experience. No matter how big online retail becomes, it won't replace the personal touch.
Next steps
If you don't already have one, set up a customer database and make sure you're keeping in touch. Conduct surveys to find out about their needs and buying behaviours.
Make sure your bricks-and-mortar store is easy to find.
Compliment your existing physical location with an online option.