Form strategic alliances to increase profit
< back to all business news articles
09/05/2018
There are many ways you can work with other businesses or people, ranging from short-term joint ventures to more formal long-term commitments. You can form strategic alliances with suppliers, with customers, with complementary businesses, or with non-profit organisations such as charities. The possibilities are probably limited only by the imagination.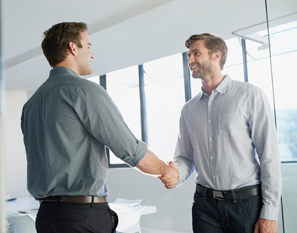 Benefits of developing a strategic alliance
There are many good reasons to consider forming a strategic alliance. They include:
Gain a competitive advantage
The synergies of strategic alliances can give you new 'clout' in the market place and a distinct competitive edge. Often small businesses come together to bid for contracts or tenders that on their own they'd be too small to win.
Build credibility
Strategic alliances can enhance the credibility of both parties. In the case of a small business, featuring the logos of well-known strategic partners can be particularly effective.
A 'one-stop shop' convenience
If you're getting frequent enquiries from customers or clients for complementary products or services that you don't offer but another business does, it would enhance your value to offer a complete range under one roof.
Compete against big businesses
A strategic alliance may enable you to compete against a much larger company or corporate, because your combined resources can match the capabilities of the larger company.
Share marketing costs
The attraction of strategic alliances for many rapid-growth technology companies in particular is that alliances enable them to share marketing costs. Another example many businesses follow is to ask suppliers to help with marketing, advertising or signage costs.
Gain access to skills at bargain rates
Forming a strategic alliance (even just for the duration of a certain project) could give you access to specialised skills and knowledge at a fraction of the market rate.
Pool complementary resources
Strategic alliances allow two or more businesses to share equipment, people and ideas. The synergies allow you to progress your business development much faster than if you were functioning alone. You can extend your technical and other resources through the alliance while still being able to focus on your key strengths.
Share R & D costs
Sharing research and development costs is another benefit of strategic alliances, allowing you to achieve more and much faster than if you were working alone. These costs can often be beyond the reach or capacity of smaller businesses.
Reduce the risk
Sharing costs also reduces risk for the business and helps manage the uncertainty of new launches. For example, the cost and risk (in dedicated resources) to introduce new products can be high. In addition, alliances can allow you to exploit economies of scale.
Conserve precious cash
Strategic alliances can help you keep precious cash resources in the business. Many of the advantages discussed above, involve trading ideas or sharing equipment that doesn't involve cash, or agreeing a significantly discounted rate for the supply of specialised skills.
Share customer databases
Strategic alliances can also lead to valuable new business. For example, two businesses that offer complementary products or services can promote each other's products to their respective customers and markets. You could also offer to support a charity, since many charities have well-developed databases.
International exposure, trade barriers and new market penetration
Forming the right alliance with an overseas company could help you get valuable exposure and a shortcut into international markets that might otherwise take years to penetrate. The alliance could also help you overcome trade barriers. Similarly, teaming up with businesses that have developed different channels of supply and/or distribution can greatly aid your business.
Summary
The possibilities for business owners to create strategic alliances are endless. Do your homework to make sure it's the right strategy for your business, target a strategic and motivated partner, and be prepared for potential risks that may come your way.
Key considerations to keep in mind are to make sure the prospective alliance partner is respectable, and you like the people you're dealing with and share their values. Alliances work best when there's open and honest communications between all parties.
Also clarify who will own any intellectual property generated through the alliance, and have a recommended end point.