Leading UK employee benefit provider has the full kit and caboodle
< back to all business news articles
20/06/2018
One of the UK's leading employee benefit providers is looking to develop and grow its business with the support of Clydesdale and Yorkshire Banks.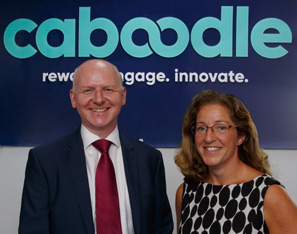 Caboodle Technology ('caboodle'), based in Crewe, was established in 2009, initially offering a salary sacrifice solution through its online employee benefits platform 'Salary Extras', which was designed and built by the company's own development experts. Over the past nine years, the business has continued to develop both its Salary Extras platform and the company's employee benefit services to provide a bespoke, tailored solution to both large and small business.
It recently completed a Management Buy-Out, supported by the Bank, when a founding member left the business. It also rebranded to caboodle, with the name taking inspiration from the common phrase 'the whole kit and caboodle', to demonstrate the platform's versatility and flexibility.
Catherine Bennett, Managing Director at Caboodle Technology, said: "Our platform, Salary Extras, has allowed our business to evolve enabling us to offer our customers a service which is flexible and meets their individual needs. The new name highlights that we are much more than just a salary sacrifice solution and that we can provide a unique service to businesses of all sizes. The MBO was also an important milestone and we are now working on our growth strategy which will allow us to build on our success to date."
caboodle has a 45-strong team and is continuing to recruit in order to meet its objectives.
Catherine added: "We will be expanding our sales team as well as our technology development area, as we want to continue to be at the forefront with our platform and ensure it has all the features our customers need and expect. Our service desk is also an important element of caboodle so our customers have somebody to talk to and who are ready to help with any issues or questions.
"We recently joined Clydesdale and Yorkshire Banks and I was really impressed with the level of knowledge and understanding Mark Preston and his team had about our business and the industry we operate in, which has made life a lot easier. We look forward to working with them going forward."
Mark Preston, Director, SME Cashflow, at Clydesdale and Yorkshire Banks, said: "caboodle has created a platform that sets it apart from its competitors, offering customers a centralised and custom approach to employee benefits and engagement. We are committed to working with SMEs to ensure businesses grow and develop - caboodle is in an excellent position to continue to develop its business and we are pleased to be on this journey with them."
Caboodle Technology was advised by RSM and Squire Patton Boggs, whose team consisted of Craig Pettit and Paul Mann from the Corporate team, as well as Graham Ball and Andrea Unwin from the Banking team. Clydesdale and Yorkshire Banks were advised by DWF LLP, whose Legal Banking team included Iain Shurwood and Karolina Kola. Helen Besant Roberts of Hurst & Company Accountants LLP completed the Financial Due Diligence on behalf of the Bank.