Boosting connectivity for UK businesses
< back to all business news articles
08/03/2019
Recently our specialist Growth Finance team helped Optimity to accelerate its business development. Below we look at what the business is all about and how our funding will help the team at Optimity to achieve their goals.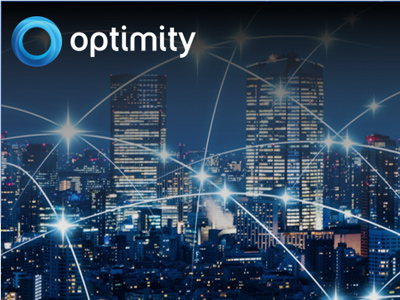 Business background
Optimity Ltd is one of the UK's leading providers of innovative network technologies and managed services. Founded in Shoreditch in 2003 as a computer repair service which also installed telephone lines for SMEs, Optimity Ltd is now backed by a major growth equity investor named FPE Capital and is well known for its Wibre™ technology, which helps businesses to get access to a rapid connection faster.
What is Wibre™?
Wibre works through rooftop antennas that transmit microwave signals to eachother to provide broadband comparable connection speeds of 10Gbps to those who install it. Optimity currently operates 320 rooftop antennas across London.
It can be installed in just over a week and this allows Optimity's clients to avoid the long lead times required in most cities to install fibre. The service can also reach broadband 'blackspot' areas where regular fibre networks are unable to provide high-speed connections due to the challenges involved in laying down physical cables.
Alongside Wibre™, Optimity also provides traditional broadband, and a comprehensive range of technology solutions, all coupled with a broad suite of industry leading managed service offerings and backed up by considerable in-house expertise to meet the growing needs of its clients.
How is our funding helping them grow?
Using a £2.5 million funding package from the Bank, the business is looking to expand and strengthen its service-offering across London (where it's headquartered), grow its workforce and further develop its rapidly growing client base.
The business, which currently employs 55 staff, will use the new financing package to develop its network coverage across the city and plans to further expand its workforce by recruiting 10 more staff over the next 12 months. It is also planning to target investment into its marketing and sales activities to help accelerate the acquisition of new clients.
Andrew Frome, Chief Financial Officer at Optimity, said: "As with many cities, London's internet connectivity leaves much to be desired. We provide our clients with the ability to be connected to a high capacity network in a shorter space of time."
"The new funding from Clydesdale and Yorkshire Bank will give Optimity the working capital we need to expand our business and further develop our range of business solutions."
A view from our team
Stephen Fahy, Senior Director, Growth Finance at Clydesdale and Yorkshire Bank, said: "High speed internet connections are vital to help UK SMEs perform at their best. Poor connectivity can be a barrier to business growth, but Optimity is helping businesses to overcome this challenge with its innovative Wibre™ product, which is scaling up internet connectivity levels and enabling the digital economy to have the connections it needs to thrive.
"Our Growth Finance team is committed to supporting SMEs like Optimity which are at the cutting edge of technology solutions. We're excited to see the next stage of their growth unfold and look forward to working with them in the future."
To find out how our Growth Finance team can help your business, click here.