Healthcare provider expands its portfolio
< back to all business news articles
15/02/2018
The Hampton Healthcare Group, a Northamptonshire-based care home company, has added to its portfolio by purchasing an existing facility with support from Clydesdale and Yorkshire Banks. The company, which was called an 'Outstanding Operator' by the Care Quality Commission (CQC), has bought Midland Care Home (formerly Dale House) in Wellingborough.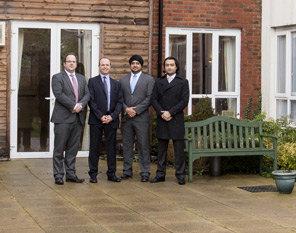 The team at Hampton Healthcare Group are keen to invest in the property and make improvements to enhance the standard of care offered. The 66-bed purpose built care home is arranged over three floors and has a number of lounge spaces and outside space for residents.
Tej Sehmi, Operations Manager at Hampton Healthcare Group, said: "Midland Care Home is an impressive facility and we are thrilled to be expanding our portfolio. We will be making a significant investment into Midland Care Home and hiring new staff in the near future.
"It was a pleasure to work with the team at Clydesdale and Yorkshire Bank on this deal – they have worked in this sector for many years and have a great understanding of the challenges and opportunities for a business like ours."
Richard Hornsey, Director of Health and Social Care at Clydesdale and Yorkshire Banks, said: "The Healthcare sector is one of our core markets and it's great to work with Hampton Healthcare Group as they expand and grow their business. The team has a proven track record when it comes to owning excellent care facilities and Midland Care Home is no different. The team is bringing much needed beds back into operation and is creating employment in the local area, which can only be good news for the community."