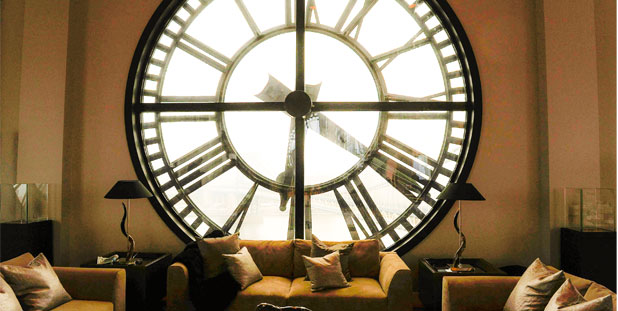 The clock tower
Want people to think you live in cloud cuckoo land - how about residing in a giant clock? Offering 360 degrees views, this gargantuan triplex penthouse sits atop Brooklyn's iconic Clock Tower building in the trendy DUMBO neighbourhood (an acronym for Down Under the Manhattan Bridge Overpass).
Packed with luxurious finishes and oozing Gotham City charm, this is one of the most expensive penthouses ever sold in Brooklyn. Except it won't sell. The price-tag is said to have been reduced from $25m in 2009 to $18m, and it's still on the market. Maybe it's not the right time to shift it.

The homewood
When your son, fresh into a career as an architect, suggests he knock down your rambling Victorian country home and replace it with a new-fangled modernist creation – what do you say? Unlike many faced with this dilemma, the parents of precocious 24-year-old Patrick Gwynne thought it was a rather spiffing idea back in 1938.
So with the family home reduced to rubble, the young Gwynne set about creating The Homewood – now widely recognised as one of Britain's greatest modernist masterpieces. Influenced by Frank Lloyd Wright and Le Corbusier, and with a staggering £10,000 budget in his pocket, Gwynne instilled ruler-straight lines and contrasting colours to make the building float in the Surrey countryside.
Large windows sucked in the wondrously sculpted garden and huge open plan rooms, with moveable furniture for dancing, made it the ultimate party home for Gwynne when he finally moved in himself. It remains top this day filled with bespoke furniture designed by Gwynne, and iconic mid-century pieces by Eames, all with a hint of Bond villain.

Chemosphere
They say that necessity is the mother of invention, and this point was not missed on American architect John Lautner in 1960. Faced with a site on the San Fernando Valley side of the Hollywood Hills, just off Mulholland Drive, with a 45 degrees slope, Lautner had been told it was unbuildable.
But the young Lautner was not deterred. With a $30,000 budget he was determined to design a liveable house on the spot for young aerospace engineer Leonard Malin. The end result is straight out of a sci fi movie: a hovering concrete UFO that stands on a five-foot-wide concrete column, 29-feet high, and is accessible by funicular.
The views as you would expect are spectacular and the concept has proved its worth, surviving earthquakes and heavy rains over its fifty years.

Antilia
It's hard to know what to make of Antilia. On one hand it has an impressive 27 floors, 600 staff, a garage for 168 cars, three helipads and is the most expensive home in the world after Buckingham Palace. On the other, it looks like the world's largest game of Jenga. Pretty it isn't.
This skyscraper is the only home of Mukesh Ambani and family, one of the richest men on the planet with an estimated wealth of $21.5bn. It dominates the skyline around Altamount Road, Mumbai, one of the country's most exclusive addresses.
It was rumoured to have cost $500m to build, but thanks to a hike in property value in the area currently sits at an estimated $1bn. Now that's a tidy profit on property.