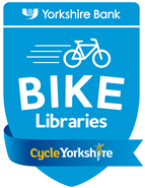 Yorkshire Bank Bike Libraries
Yorkshire Bank Bike Libraries, in association with Cycle Yorkshire, make it simple for people to donate their old unwanted bikes for someone new to love your old bike. Now in its fourth year alongside the Tour de Yorkshire, Yorkshire Bank Bike Libraries share the official sponsorship of the General Classification blue leader's jersey with Yorkshire Bank.
Our simple vision is to make cycling more accessible for all ages and all ability levels - so far over 50,000 children and adults have benefited. We want to help all children in Yorkshire have access to a bike, free of charge.
In December 2017, we were very proud to win the Sport Simple Program of the Year category at the international Peace and Sport Awards.
To find out more information about the Bike Libraries, please click through to our new YBBL infographic here.
The Yorkshire Bank Bike Libraries have a positive impact on all those who engage with the scheme. In some cases this affect is life changing and gives a new lease of life.
Find out more about Neil and Adele's life changing experiences with the Yorkshire Bank Bike Libraries.