Buying a house is a huge commitment. Your mortgage might last for 25 years, so it's important that you take your time and make sure that your property is right for you both now and in the future. After all, your home is probably the most expensive purchase you'll ever make. When you see something you like it can be tempting to make an offer as quickly as possible but take time to consider all possibilities. Hopefully this property could be your home for a number of years, don't rush into anything.
Avoid disappointment
Before you start looking it's important to work out what you can afford. There's no point falling in love with a property that's way out of your price range. Check out our mortgage calculator and our guide to affordability.
Location, location, location
It's a cliché but that doesn't make it any less true. What is the area around the home like? Would you feel safe walking the dog late at night? How are transport links? The house itself could be a gem but if it's 3 miles from the nearest bus stop and you don't drive, it might not work for you.
Visit at different times
Visit before you'd leave for work and check how your journey would be. Check parking in the area during the day and after work. Is it quiet at night? Is the area busy at the weekend?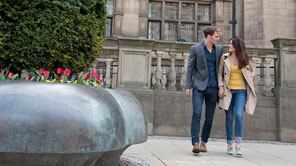 Local amenities
Make sure what's around your potential home suits your lifestyle. For some people having a local pub on your street might be a nuisance, for others it might be a necessity.
Schools
Do some research into the local schools, whether or not you have children. A study by the London School of Economics shows [1] a home in a good school area is usually more desirable and therefore more expensive. It could add value to your home even if you don't plan to have children.
Everybody needs good neighbours
If you like your music loud and late it may not be sensible to move into a building with predominately old people. Similarly if you've got a young family then living next to student accommodation might not help. Ask the seller how their relationship with neighbours has been or try to speak to the neighbours directly. Be prepared to visit the property and check out noise levels for yourself.
Geography
Is the property next to a river which might flood? Is it in an area of former coal mining? If so it could be difficult to get a mortgage[2] or insurance[3]. Large trees nearby can also cause structural issues.
Inside the home
Most people will plan to buy a property to live in for the medium to long term. It's important that you make sure that the house will suit your needs in the future as well as now.
Number of bedrooms
Most often when browsing properties this information will be this first thing you see. It's important that you consider future plans when deciding how many bedrooms you need. Are you likely to want to start a family soon? Will you need a spare room for visitors?
Space
Would you have room for all your furniture? Can you afford to furnish more rooms or larger rooms than you've had in the past?
Don't forget storage
It's easy to forget that you'll need somewhere to keep everything once you move in. Look at cupboard space in the kitchen and elsewhere. Is there enough room for all of your stuff? Having enough storage space can really add to your comfort and allow you space to breathe.
General state of repair
Are you prepared to do some work to fix up the property or do you want to move right in? Does your budget allow for you to do what's required to get the house to your standards?
Decor
How does the property look now? Would you be able to move straight in or would you have to do some minor redecorating or more major work?
Outside Areas
Do you have the time to keep a garden? Does it get the sun all day or only at certain points?
Additional costs
Does owning the property require you to pay factoring fees? Would you have to buy a parking permit? How will the additional expense affect the affordability of the property?
This may seem like a lot to consider but you're about to make a huge decision, which will affect every aspect of your life. Be patient, consider as many properties as possible and when you find the perfect one you can be confident that you've definitely discovered the right home for you.
Sources:

Council of Mortgage Lenders, September 2012