Yorkshire Bank can help businesses grow by unlocking cash tied up in unpaid invoices. We go above and beyond with our Confidential Invoice Discounting service giving you immediate access to up to 100%* of the value of any unpaid invoices that your business might have. That's up to 10% more of your debtor book than typically available.
*Funds are available immediately when invoices are raised in Sterling, notified to us through Invoice Finance Direct by 4pm and drawn to a Yorkshire Bank or Clydesdale Bank trading account. Minimum amount £50,000. The maximum funding limit will depend on your individual circumstances and will be reviewed by your relationship manager. Terms and conditions apply. All facilities are subject to status and eligibility. Applicants must be 18 or over.
How can your business benefit from Invoice Discounting?
Confidential Invoice Discounting is an effective source of business finance. It enables companies to improve their cash flow by releasing money from unpaid invoices as and when they need it. They can access finance without giving up control of the relationships they have with customers and with no disruption to any credit control processes. Shortening the payment cycle allows you to keep your finances moving and concentrate on growing your business. Invoice Discounting helps you maintain operating cash flow through fluctuating trading cycles when waiting for payments from customers who have lengthier payment terms or who fail to pay on time.
Who is Invoice Discounting for?
Invoice Discounting is an effective solution for any business that trades on credit, has plans to expand, is trading with overheads, or is looking to grow. Being able to release working capital from unpaid invoices, typically one of the biggest untapped assets in a business, allows you to focus on your growth plans.
Why should your business use Invoice Discounting?
Could release capital quickly to support business growth as and when you need it
Could gain access to finance that mirrors your working capital cycle
No security normally required other than your sales ledger
Accelerated access to cash flow can allow you to plan for late payments and secure discounts from suppliers
You could better manage your credit control and your customer relationships
Simple misunderstandings about Invoice Discounting
It's only for businesses in financial difficulty
This is a last resort to boost cash flow
Customers will think negatively of your business
It's a difficult process
What you could do with access to Confidential Invoice Discounting
Grow sales in the UK or overseas
Better manage every day cash flow requirements
Hire staff and buy new equipment
Offer supplier discounts
Handle last minute orders
Be better prepared for overdue customer payments
Business enquiries
Applying for our Confidential Invoice Discounting service is simple. Get in touch today and we'll talk you through the process.
To find out more about Invoice Finance please call:
0800 121 4414
Monday - Friday 9.00am - 5.00pm
---
Invoice finance
Submit an invoice finance enquiry online
Submit an enquiry
---
Branch locator
Find your nearest branch or private banking centre
Branch locator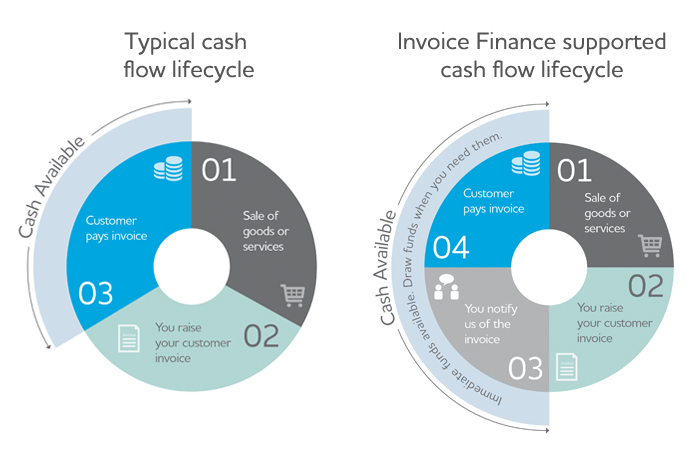 Typical cash flow life cycle
Stage 1 - Sale of goods or services
Stage 2 - You raise your customer invoice
Stage 3 - Customer pays invoice and cash becomes available
Invoice Finance supported cash flow life cycle
Stage 1 - Sale of goods or services
Stage 2 - You raise your customer invoice
Stage 3 - You notify us of the invoice and immediate funds are available. You can draw funds when you need them
Stage 4 - Customer pays invoice
Why choose Yorkshire Bank?
At Yorkshire Bank we could immediately* lend you an amount that is up to the full value of your invoices, whereas you may typically only get up to 90% in a 24 hour period. Get in touch and we'll talk you through your options as well as the advantages of Confidential Invoice Discounting.
Through Invoice Finance Direct you will have full access to our interactive portal which is secure and allows you to manage this service. You'll be able to upload invoices, view your balance, draw funds and notify receipts. All in a fast, secure, real-time online process that you're in full control of. Log in.
We'll talk you through our terms and conditions, point out our competitive pricing in a way that is clear and easy to understand. One of our Invoice Finance experts will provide you with dedicated support and advice that is tailored to you.
As an option, we have a Credit Protection service which gives you protection against bad debtors (fees apply). It's important to be aware of the impact this can have on your business.
We're here to meet the specific needs of each individual and can tailor our services to suit your needs as your business grows. We could offer a full range of financial services including asset finance, merchant services, trade finance and treasury services. Get in touch to see how we can work together.
* Funds are available immediately when invoices are raised in Sterling, notified to us through Invoice Finance Direct by 4pm and drawn to a Clydesdale Bank or Yorkshire Bank trading account.
Case Studies

Iconic lamp design firm, Anglepoise, is poised for global growth as a result of the bank's strategic advice and innovative, end-to-end funding package.
Important information
Interest is calculated daily against funds utilised and applied to account monthly. Standard charges apply but may be individually negotiated – speak to your relationship manager for more details or a copy of the invoice finance tariff.