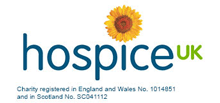 Charity Partner
In February 2008 Clydesdale and Yorkshire Banks joined forces with Hospice UK (formerly Help the Hospices).
Hospice UK is the leading charity for hospice care, supporting more than 200 hospices throughout the UK.
Hospices provide the best possible care for people at the end of their life. Hospice care is provided free of charge and tailored to the individual needs of the patient.
We care about our people
In almost nine years together, we have raised over £4.7 million for hospice care. The structure of our partnership offers employees the opportunity to support hospice care both nationally and locally too. Each of our locations is linked with a hospice in its community. This enables our employees to support palliative care nationally as well as see the direct impact of their support where they live and work.
Local hospices also rely heavily on support through volunteering. More than 125,000 volunteers support the hospice care sector each year and through our partnership colleagues have dedicated more than 35,000 volunteering hours for their local hospices.
Every pound Yorkshire Bank colleagues raise and every hour they volunteer makes a huge difference to the work of hospices across the country. To find out more about the impact of the Bank's work, please visit www.hospiceuk.org
Caring because it matters
Each year UK hospices care for over 120,000 people and their families. To provide this support, on average hospices need over £9,000 a day just to keep going, making hospice care one of the UK's largest community fundraising causes. This is why our help is essential,and our partnership embodies our motto - we care about here.